Most experienced rifle and pistol cartridge reloaders advise that a simple, single station press is the best way to get started. That may be true. However, here at Gear-Report.com, we tend to think of ourselves as over-achievers. So, when faced with the decision of which brand, type and model of reloading press to buy, we skipped over the very affordable single stage presses and went straight to the Lee Loadmaster progressive reloading press from Lee Precision.
*We have added posts about the Lee Loadmaster press. Be sure to check out DIY Fixes to Improve the Lee Loadmaster Reloading Press and subscribe using the blank on the right to get safe updates whenever Gear-Report.com publishes a new article. We have several more Lee Loadmaster progressive press articles in the works.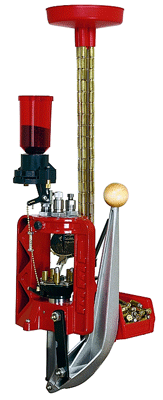 Why Lee Precision?
This decision was based on only a few key factors
Was it available at the time (early 2013)?
Was it within the very limited Gear-Report.com budget?
Would it work for smaller pistol cartridges AND much longer rifle cartridges?
Did the company have a good reputation?
With the run on all gun related products early in 2013, the hardest questions to answer were availability and cost. We were fortunate to stumble upon an online retailer that not only had Lee Loadmaster progressive reloading presses in several calibers in stock, but also was NOT price gouging. In looking at various other brands of reloading press (Dillon, RCBS and Hornady, among others) we quickly found that Lee Precision was the only brand that both fit our budget AND had a good reputation among experienced reloaders.
Well, "good reputation" may not be accurate. It seems that many folks knock the Lee Loadmaster for being a bit finicky. However, plenty reported consistent good results. After reloading about 2000 rounds of 3 different calibers we are in a decent position to offer some opinions and real-life feedback.
For the Gear Report crew, it was easy to settle on Lee Precision since the other reputable brands costs a lot more.
Why a progressive reloading press instead of a single stage press?
Volume
Yep, it is as simple as that.
There is a good argument for starting out on a single stage press, like the Lee Classic Loader press or the Lee Turret press. Trying to learn the details of each operation in the loading sequence is more difficult when there are 5 operations happening at the same time (as it is on the Lee Loadmaster progressive press). Having cut my teeth on a progressive press, I can certainly see how the learning curve could have been compressed a bit by focusing on only one operation at a time. Rather than buy a single stage press first, learn on it, then upgrade to a progressive press, we decided to just start slow on the progressive reloading press and increase speed
Our thoughts on the Lee Loadmaster Reloading press?
Lee Precision ships the Lee Loadmaster reloading press mostly assembled. However, much of the hardware on the press needs to be adjusted for the cartridge that is being loaded. So, although it may only take 5 minutes to get it out of the box and clamp it to table, don't plan on having high quality cartridges until you have gone over the entire press and made a series of adjustments. There are great videos on the internet that show how to set it up in general, for specific cartridges, with factory accessories, and even with some homemade accessories.
The frame of the Lee Loadmaster reloading press and removable turret appears to be significantly over-built. Time will tell how the parts that wear hold up. At about 2000 rounds produced so far, the only part failure has been the little dog-tag chain that pulls the arm to release the powder charge into a rifle cartridge. I adjusted it incorrectly (way too tight), so the part itself can't be blamed.
Pros:
lower cost than similar presses from Dillon, RCBS or  Hornady,
high volume reloading capacity
removable turrets make changing calibers relatively quick and easy
sturdy frame
good parts availability
Cons:
each caliber requires a variety of press parts (shell holder, case feeder, dies, priming system), although, in fairness, this is true of other brand's presses as well
initial setup instructions were just OK, could have been better.
Should YOU buy a Lee Loadmaster reloading press?
That depends on your needs, your personal preferences, and your budget.
Needs… or maybe we should call these "wants". 🙂
A Lee Load master reloading press might be a good choice if you:
want to produce high volumes of reloaded cartridges and prefer to do so on a progressive press, as opposed to a single stage press
have the patience and attention to detail to work through all of the settings on the press to ensure safe operation and safe reloaded cartridges
want high volume, but don't have the budget for some of the more expensive offerings from Dillon, RCBS, Hornady, etc
Gear Report rating:
Gear Score
Gears
The Lee Loadmaster progressive reloading press is not cheap. However, it is relatively inexpensive compared to similar presses. It is a good value, IF you want a higher volume progressive press and have the patience and attention to detail required to learn and manage all of the adjustment and a few quirks.
Originally posted 2014-01-09 10:04:54. Republished by Blog Post Promoter